You are currently browsing the monthly archive for July 2015.
The Secret of the Haunted Mirror by M.V. Carey
My rating: 4 of 5 stars
Still as much fun as it was when I was a kid. Anyone who wants to find a good mystery series for kids, skip the Hardy Boys and Nancy Drew and get the Three Investigators. It'll also be a fun introduction to a time before cell phones and the internet. 😀
I reread this as part of my 2015 Reading Challenge (category – book from my childhood).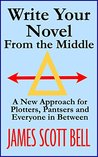 Write Your Novel From the Middle: A New Approach for Plotters, Pantsers and Everyone in Between by James Scott Bell
My rating: 4 of 5 stars
It may be a short book, at just under 80 pages, but it doesn't need more. He gives helpful information without padding the book with useless tidbits. The examples are clear and concise. I especially love the "suspension bridge" analogy for creating a solid, readable story. It's a valuable tool I will refer back to on a regular basis to improve my writing skills.